About this event
3 Days Artificial Intelligence Summer Camp Workshop for Kids is being delivered in June 2021.
Wondering why your child should learn AI?
Artificial Intelligence (AI) is leading the Fourth Industrial Revolution World-Wide. It is impacting all aspects of our lives already, from how we learn to how we drive to healthcare. AI will enable applications and processes to get smarter thus increasing the benefit to society. AI is poised to add Trillions of Dollars to Countries' Economies creating Millions of New Jobs.
This is one of the important reasons, for you to allow your child to get the right AI knowledge at an early age, so they have the opportunity to be part of this AI future.
How does this AI Summer Camp Online Workshop for kids work?
This is a 3 Day Online Summer Camp Workshop For Kids in Artificial Intelligence and is an Instructor-led and guided workshop being delivered over 3 days, 3 sessions, 3 hours per session. This workshop is recommended for children between Grades 7 and 12.
What will be covered in the workshop?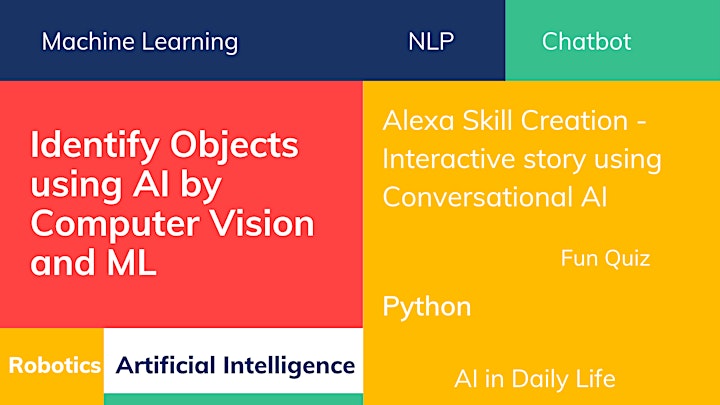 The workshop will be delivered in the English language.
We will introduce the kids to Artificial Intelligence in a very interactive manner.
Kids will discover how AI is already being used in their daily lives
Various AI concepts will be introduced to the children, where they will be playing interesting games to understand the concepts. These will be full of fun, like Coloring using AI, and learning the concept of Machine learning via this game, Identifying objects using AI by using Computer Vision and ML, and many more concepts like Conversation AI and chat with a bot, NLP, and robotics.
The Workshop is designed to be very interactive, with fun quizzes
They will need to put on their thinking caps to learn coding in Python
They will get introduced to Maths Concepts that power AI. This will be a One Hour Interactive Session by our partner IMAGINARY from Germany.
By attending this workshop, your child will be ahead of the curve in getting to learn about AI. He/She would be able to participate in Hackathons and have a stronger foundation, to be able to apply for Higher studies and Universities in the Future. Children will get a completion certificate at the end of the workshop. So get ready to enroll your kids in these 3 days of unbelievable learning in AI, Magic, and fun!!
Limited seats available so hurry!